My Son knows you!!!
(c)Mary TV/Anthony Zubac


March 22, 2019

Dear Family of Mary!
"My children, my Son knows you. He lived the life of man, and at the same time of God: a wondrous life-human flesh, divine Spirit..." (March 18, 2019)

"My Son knows you." What a wonderful thing to say!! Our Lady communicates to us that Jesus knows exactly what it is like to be a human being, because He was "like to us in all things except sin!" (CCC470) He also knows us from His divine perspective, seeing into our hearts with His divine love. It is always a challenge to wrap one's brain around that astonishing fact!

Here is more from the Catechism:

IV. HOW IS THE SON OF GOD MAN?

470 Because "human nature was assumed, not absorbed",97 in the mysterious union of the Incarnation, the Church was led over the course of centuries to confess the full reality of Christ's human soul, with its operations of intellect and will, and of his human body. In parallel fashion, she had to recall on each occasion that Christ's human nature belongs, as his own, to the divine person of the Son of God, who assumed it. Everything that Christ is and does in this nature derives from "one of the Trinity". The Son of God therefore communicates to his humanity his own personal mode of existence in the Trinity. In his soul as in his body, Christ thus expresses humanly the divine ways of the Trinity:98

(
Read more...
Collapse
)
My Son knows you!!!
(c)Mary TV/Anthony Zubac
March 21, 2019

Dear Family of Mary!
"My children, my Son knows you. He lived the life of man, and at the same time of God: a wondrous life-human flesh, divine Spirit..." (March 18, 2019)
On Monday we celebrate the Solemnity of the Annuciation. This feast is a pivot point for the Catholic Faith because we recognize and worship the Son of God who became man. It is the moment of the Incarnation. Our Lady encounters the Angel Gabriel and says "yes" to the request of God to become the Mother of His Son. All of history is turned on its end. Our salvation finds its source in Mary's "yes". The Second Person of the Trinity assumes a Human soul and body!

It took centuries for the Church to hammer out the particulars of this ultimately mysterious event. Many errors had to be addressed in order to get it right! Our Lady says it so simply in her message. She too is approaching this great mystery with us. We all can bow down together before it. Our Savior is God and Man.

I want to share a few quotes from the Catechism of the Catholic Church which address the Incarnation. It may be helpful for us to pray over the wisdom of the Church, and maybe even examine our own ideas about the Incarnation, to be sure we have it right!

Part One - Section Two, Chapter Two, Article 3, Paragraph 1

II. THE INCARNATION

461
Taking up St. John's expression, "The Word became flesh",82 the Church calls "Incarnation" the fact that the Son of God assumed a human nature in order to accomplish our salvation in it. In a hymn cited by St. Paul, the Church sings the mystery of the Incarnation:
Have this mind among yourselves, which is yours in Christ Jesus, who, though he was in the form of God, did not count equality with God a thing to be grasped, but emptied himself, taking the form of a servant, being born in the likeness of men. And being found in human form he humbled himself and became obedient unto death, even death on a cross.83
462
The Letter to the Hebrews refers to the same mystery:
Consequently, when Christ came into the world, he said, "Sacrifices and offerings you have not desired, but a body have you prepared for me; in burnt offerings and sin offerings you have taken no pleasure. Then I said, Lo, I have come to do your will, O God."84
463
Belief in the true Incarnation of the Son of God is the distinctive sign of Christian faith: "By this you know the Spirit of God: every spirit which confesses that Jesus Christ has come in the flesh is of God."85 Such is the joyous conviction of the Church from her beginning whenever she sings "the mystery of our religion": "He was manifested in the flesh."86

III. TRUE GOD AND TRUE MAN

464
The unique and altogether singular event of the Incarnation of the Son of God does not mean that Jesus Christ is part God and part man, nor does it imply that he is the result of a confused mixture of the divine and the human. He became truly man while remaining truly God. Jesus Christ is true God and true man.
During the first centuries, the Church had to defend and clarify this truth of faith against the heresies that falsified it.
465
The first heresies denied not so much Christ's divinity as his true humanity (Gnostic Docetism). From apostolic times the Christian faith has insisted on the true incarnation of God's Son "come in the flesh".87 But already in the third century, the Church in a council at Antioch had to affirm against Paul of Samosata that Jesus Christ is Son of God by nature and not by adoption. The first ecumenical council of Nicaea in 325 confessed in its Creed that the Son of God is "begotten, not made, of the same substance (homoousios) as the Father", and condemned Arius, who had affirmed that the Son of God "came to be from things that were not" and that he was "from another substance" than that of the Father.88
466
The Nestorian heresy regarded Christ as a human person joined to the divine person of God's Son. Opposing this heresy, St. Cyril of Alexandria and the third ecumenical council, at Ephesus in 431, confessed "that the Word, uniting to himself in his person the flesh animated by a rational soul, became man."89 Christ's humanity has no other subject than the divine person of the Son of God, who assumed it and made it his own, from his conception. For this reason the Council of Ephesus proclaimed in 431 that Mary truly became the Mother of God by the human conception of the Son of God in her womb: "Mother of God, not that the nature of the Word or his divinity received the beginning of its existence from the holy Virgin, but that, since the holy body, animated by a rational soul, which the Word of God united to himself according to the hypostasis, was born from her, the Word is said to be born according to the flesh."90
467
The Monophysites affirmed that the human nature had ceased to exist as such in Christ when the divine person of God's Son assumed it. Faced with this heresy, the fourth ecumenical council, at Chalcedon in 451, confessed:
Following the holy Fathers, we unanimously teach and confess one and the same Son, our Lord Jesus Christ: the same perfect in divinity and perfect in humanity, the same truly God and truly man, composed of rational soul and body; consubstantial with the Father as to his divinity and consubstantial with us as to his humanity; "like us in all things but sin". He was begotten from the Father before all ages as to his divinity and in these last days, for us and for our salvation, was born as to his humanity of the virgin Mary, the Mother of God.91
We confess that one and the same Christ, Lord, and only-begotten Son, is to be acknowledged in two natures without confusion, change, division or separation. The distinction between the natures was never abolished by their union, but rather the character proper to each of the two natures was preserved as they came together in one person (prosopon) and one hypostasis.92
468
After the Council of Chalcedon, some made of Christ's human nature a kind of personal subject. Against them, the fifth ecumenical council, at Constantinople in 553, confessed that "there is but one hypostasis [or person], which is our Lord Jesus Christ, one of the Trinity."93 Thus everything in Christ's human nature is to be attributed to his divine person as its proper subject, not only his miracles but also his sufferings and even his death: "He who was crucified in the flesh, our Lord Jesus Christ, is true God, Lord of glory, and one of the Holy Trinity."94
469
The Church thus confesses that Jesus is inseparably true God and true man. He is truly the Son of God who, without ceasing to be God and Lord, became a man and our brother:
"What he was, he remained and what he was not, he assumed", sings the Roman Liturgy.95 And the liturgy of St. John Chrysostom proclaims and sings: "O only-begotten Son and Word of God, immortal being, you who deigned for our salvation to become incarnate of the holy Mother of God and ever-virgin Mary, you who without change became man and were crucified, O Christ our God, you who by your death have crushed death, you who are one of the Holy Trinity, glorified with the Father and the Holy Spirit, save us!"96
83 Phil 2:5-8; cf. LH, Saturday, Canticle at Evening Prayer.
84 Heb 10:5-7, citing Ps 40:6-8 ([7-9] LXX).
85 1 Jn 4:2.
87 Cf. 1 Jn 4:2-3; 2 Jn 7.
88 Council of Nicaea I (325): DS 130, 126.
89 Council of Ephesus (431): DS 250.
90 Council of Ephesus: DS 251.
91 Council of Chalcedon (451): DS 301; cf. Heb 4:15.
92 Council of Chalcedon: DS 302.
93 Council of Constantinople II (553): DS 424.
94 Council of Constantinople II (553): DS 432; cf. DS 424; Council of Ephesus, DS 255.
95 LH, 1 January, Antiphon for Morning Prayer; cf. St. Leo the Great, Sermo in nat. Dom. 1, 2; PL 54, 191-192.
95 Liturgy of St. John Chrysostom, Troparion "O monogenes."




To prepare for the great Solemnity of the Annunciation, let's ask the Holy Spirit to help us to grow in our understanding of the great mystery of love that is the Incarnation!
More tomorrow!

In Jesus, Mary and Joseph!
Cathy Nolan
©Mary TV 2019
"Medjugorje is the spiritual center of the world."
Saint John Paul II
Be connected!
www.marytv.tv
To combat the culture of death and as a response to the Reproductive Health Act, which takes away legal protection from the unborn, Bishop Nicholas DiMarzio has announced that the Diocese of Brooklyn will join the international '40 Days of Life' campaign this Lenten season.
"In response to the recent malicious Reproductive Health Act adopted in New York State, I have received dozens of letters and messages from Catholics, throughout Brooklyn and Queens, who are profoundly shocked by this extremist pro-abortion law," Bishop DiMarzio said. "As such, I thought it critical that during this season of Lent, our faithful have a greater opportunity to be part of something that places great emphasis on the value of life.
"I have pledged the diocese's support for the worldwide 40 Days For Life campaign, and am encouraging a period of prayer, fasting, peaceful vigil and education to take place in the name of the unborn," the bishop said.
Read more here:
https://thetablet.org/in-response-to-new-abortion-law-diocese-joins-40-days-of-life/
Half of all Americans don't know Planned Parenthood does abortions.
It's an astounding statistic and a great example of why community outreach is a key component of a 40 Days for Life campaign. The more people know about Planned Parenthood's abortion empire, the more they REJECT Planned Parenthood.
Nobody is better equipped to educate about the devastating impact Planned Parenthood has on communities than 40 Days for Life Outreach Director (and longtime Planned Parenthood manager) Sue Thayer.
Sue has been busy speaking the truth about the abortion industry to media outlets close to home and around the world. She's speaking at 40 Days for Life campaign events as well as to young people, political activists, fellow former abortion workers, and many others!
Northern California
At the Napa kickoff event, Sue met a fellow former Planned Parenthood worker. The nine-year clinic assistant is now good friends with the campaign co-leader, Ron, who prayed for her when she was still employed by the abortion industry.
While in California, Sue spoke to students at a Walnut Creek girls' school. Initially, some students were disruptive...but within a few minutes, the mockery turned into undivided attention.
Still, one girl appeared bitter and even refused to shake Sue's hand after the event. Instead she asked, "What about rape?"
Over the next moments, a heart softened as Sue talked about the love of Christ. "As her anger dissolved, a smile came to her face," Sue said. "She acknowledged the amazing gift of life, regardless of how it began."
The two parted with a hug.
Missouri
Sue addressed a packed house at the Missouri State Capitol in Jefferson City to educate and encourage activists who are seeking to make Missouri the most pro-life state in the nation.
Sue went from the Capitol to the Columbia, Missouri Planned Parenthood facility, which is barred from performing abortions by a state law requiring abortion doctors to have admitting privileges at an area hospital. Last month, a federal judge (appointed by Obama!) denied Planned Parenthood an injunction that would have allowed abortions to resume.
Pouring rain couldn't dampen the spirits of the pro-lifers. "Our prayer supporters tell us that business is really DOWN at the former abortion facility," said Campaign Leader Kathy. "Each campaign we see a greater and greater decrease in clients..."
Omaha, Nebraska
Sue spoke at a Students for Life leadership training event in Omaha, Nebraska. Her topic? Embracing controversy. With nearly two decades managing a Planned Parenthood facility, it's safe to say Sue was the woman for the job!
Sue's visit to Nebraska also included visits to campaign events in Lincoln and Bellevue--in front of the practice operated by infamous late-term abortionist LeRoy Carhart.
Now Cain talked with Abel his brother; and it came to pass, when they were in the field, that Cain rose up against Abel his brother and killed him. Then the Lord said to Cain, "Where is Abel your brother?" He said, "I do not know. Am I my brother's keeper?" And He said, "What have you done? The voice of your brother's blood cries out to me from the ground."
—Genesis 4:8-10
Father, help us to embrace the fact that we are our "brother's keeper." When, due to selfish motives, we try to cast off this responsibility please call to us to account. We would be pleasing to you and to our "brother." Through the help and grace of our Lord and Savior, Jesus Christ. Amen.
See today's full devotional
Shawn Carney
President/CEO, 40 Days for Life
40 Days for Life 4112 E 29th St. Bryan, Texas 77802 United States (888) LIFE-316

Mirjana Soldo encounters Our Lady (March 18, 2019)
(c)Mary TV/Kristian Zubac
March 20, 2019

Dear Family of Mary!
"My children! As a mother, as the Queen of Peace, I am calling you to accept my Son so that He can grant you peace of soul-that He can grant you that which is just, which is good for you..." (March 18, 2019)
Our Lady is our Mother. Jesus presented Her to each of us through the Apostle John, as our Mother. "Behold your Mother," He said to John. "Behold your son," He said to Mary. It was a solemn act as Jesus was dying on the Cross. Jesus died in our place, to take on our sins as His own, and to atone for them. He poured out His life for us, making us part of Him. He embraced us as His very self and presented us to the Father from the Cross. But not only to the Father, He presented us to His Mother as well. He presented us to Her as Her children. And so, we are.

And so, Our Lady speaks to us as a mother, with the intensity of love that only a mother can have for her child. She speaks to us personally and intimately. She looks into our eyes and gazes deeply into our souls, and she speaks to us.

But what does she speak? What does She impart to us in that loving motherly gaze?

She reminds us that She is the Queen of Peace.

This is the title she used during the first year (1981) of her apparitions in Medjugorje oh so many years ago.
Thursday, August 6, 1981---"I am the Queen of Peace."
Our Mother is a Queen!! And not just any queen but the Queen of Peace!! But what does a queen of peace do? What does it mean to be the Queen of Peace? What indeed is peace? We poor creatures who live on this earth in the midst of so much turmoil, confusion, doubt, fear, confrontation, and suspicion, do not really know peace. We do not experience it naturally.

What is peace? How can we define it, experience it, know it?

The Catechism of the Catholic Church links peace to fundamental respect for all life. To bear hatred for another, to kill, to harm or violate the personal rights of our neighbors is to act against peace. This is surely the basis of peace in our human societies.

But what does peace look like within us. Where is peace in me?

I think Our Lady answers this question for us when she says:
"I am calling you to accept my Son so that He can grant you peace of soul-that He can grant you that which is just, which is good for you..."
We will only have peace when we accept Jesus as our Lord, our Savior, our Brother, our King, and our Friend. We will have peace when we accept Jesus into the very depths of our hearts, to live in us. This is peace of soul. This is peace with God, whom we have offended but who loves us and forgives us through Jesus.

Then Jesus will grant to us justice, which entails the very things the Catechism defines as peace. And He will grant to us the good. To know the good is to live out all that makes for peace. Jesus will make peace in us through justice and good, if we let Him. He will heal all our wounds and teach us how to be just, forgiving and loving.

When we have Jesus, the King of Peace, in our hearts we have peace. We become like our Mother, the Queen of Peace. And we help to build peace with all our brothers and sisters.

I know this sounds impossible. But I don't think it is meant to be. If we accept Jesus into our hearts, all things will be possible.

In Jesus, Mary and Joseph!
Cathy Nolan
©Mary TV 2019
"Medjugorje is the spiritual center of the world."
Saint John Paul II
Be connected!
www.marytv.tv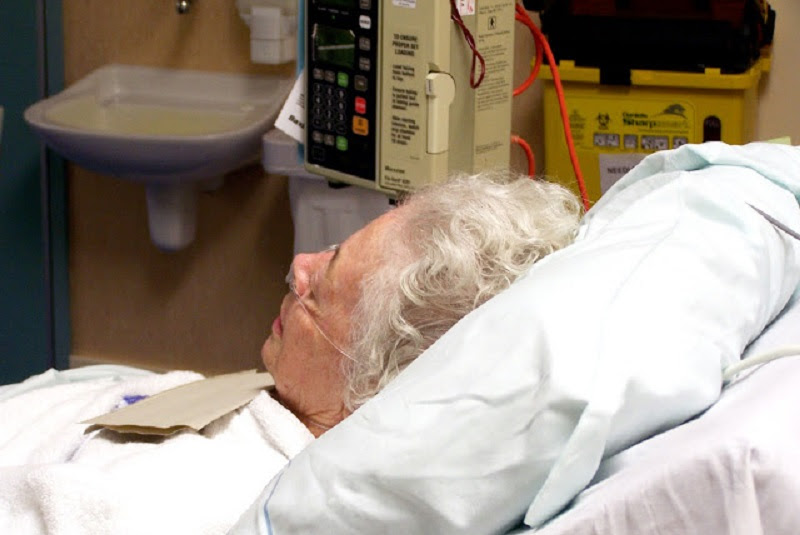 LifeNews.com Pro-Life News ReportTuesday, March 19, 2019
Having problems reading this email? To read the news, visit LifeNews.com.
Top Stories
• Pro-Abortion Candidate Beto O'Rourke Fantasized About Running Over Children With a Car
• Actress Alyssa Milano Refuses to Call People Against Abortion "Pro-Life." They're Just "Anti-Choice"
• WATCH: Beto O'Rourke Supports Taxpayer-Funded Third Trimester Abortions
• Two Catholic Priests Go Inside Abortion Clinics to Save Babies From Abortion
More Pro-Life News
• Packed Theater Gives "Unplanned" Movie Standing Ovation After Glitzy Hollywood Premier
• Pro-Abortion Democrat Presidential Candidates Want to Pack Supreme Court With Liberals
• Mississippi Legislature Passes Bill to Ban Abortions When Unborn Baby's Heart Starts Beating
• WATCH: Abortion Activist Caught on Video Stealing Crosses to Memorialize Babies Killed in Abortion
• Scroll Down for Several More Pro-Life News Stories
It's one of the strangest admissions a candidate for president has ever made.
One of the great tragedies of debate is when an argument is attacked for what others' think it is, rather than for what it actually represents.
Click to Read at LifeNews.com.
Two Catholic priests entered two Washington DC abortion facilities Tuesday morning — risking arrest to save babies from abortion.

Hollywood got a deeper, first-person look inside the abortion industry Monday night during the premier of the film "Unplanned."
A growing number of Democratic presidential candidates are entertaining a push to add seats to the Supreme Court, as Republican success at filling the courts with judicial conservatives has infuriated progressive voters.
The Mississippi legislature sent a bill to Gov. Phil Bryant's desk Tuesday that would ban abortions after an unborn baby's heartbeat is detectable.
Last week, Students for Life at the University of Michigan, Ann Arbor, set up a Cemetery of the Innocents display on campus, to commemorate lives lost to abortion.

Looking for an inspiring and motivating speaker for your pro-life event
? Don't have much to spend on a high-priced speaker costing several thousand dollars? Contact
news@lifenews.com
about having LifeNews Editor Steven Ertelt speak at your event.