LifeNews.com Pro-Life News ReportMonday, March 18, 2019
Having problems reading this email? To read the news, visit LifeNews.com.
Top Stories
• WATCH: Beto O'Rourke on Abortions Up to Birth: "That Should be a Decision a Woman Makes, I Trust Her"
• Hulu Show's Character Says She Feels "Very F—— Powerful" After Aborting Her Baby
• 91 Babies Saved From Abortion During 40 Days for Life Prayer Campaign, So Far
• Kentucky Judge Blocks Law Banning Abortions When Unborn Baby's Heart Begins Beating
More Pro-Life News
• Arkansas Governor Signs Bill to Ban Abortions on Unborn Babies After 18 Weeks
• City Votes to Make Itself a "Sanctuary City" for Unborn Babies
• Georgia Senate Committee Passes Bill Banning Abortions After Unborn Baby's Heart Starts Beating
• Beto O'Rourke Raises More Than Any Other 2020 Democrat, Supports Abortions Up to Birth
• Scroll Down for Several More Pro-Life News Stories
Former Texas congressman and 2020 Democratic presidential candidate Beto O'Rourke was captured on camera at a campaign event in Cleveland responding to a question about third-trimester abortions.
In the Hulu original series released March 15 and aptly titled
Shrill,
for how annoying it is...
Click to Read at LifeNews.com.
Today we know of 91 babies saved from abortion by YOUR prayers since March 6…and the fate of one of those children was left to chance.
Click to Read at LifeNews.com
A federal judge blocked Kentucky's heartbeat law Friday, allowing unborn babies to continue to be aborted in the state.

Arkansas has a new law to protect unborn babies from abortion starting at 18 weeks after Gov. Asa Hutchinson signed the measure Friday.
A New Mexico city voted to become a "sanctuary" for unborn babies last week in response to pro-abortion Democrats' push to expand late-term abortions.
A Georgia Senate committee advanced a pro-life bill Monday that would prohibit abortions after an unborn baby's heartbeat is detectable.
Former congressman Beto O'Rourke raised more than any other Democrat running for president — put him in a strong position to compete for the party's nomination.

Looking for an inspiring and motivating speaker for your pro-life event
? Don't have much to spend on a high-priced speaker costing several thousand dollars? Contact
news@lifenews.com
about having LifeNews Editor Steven Ertelt speak at your event.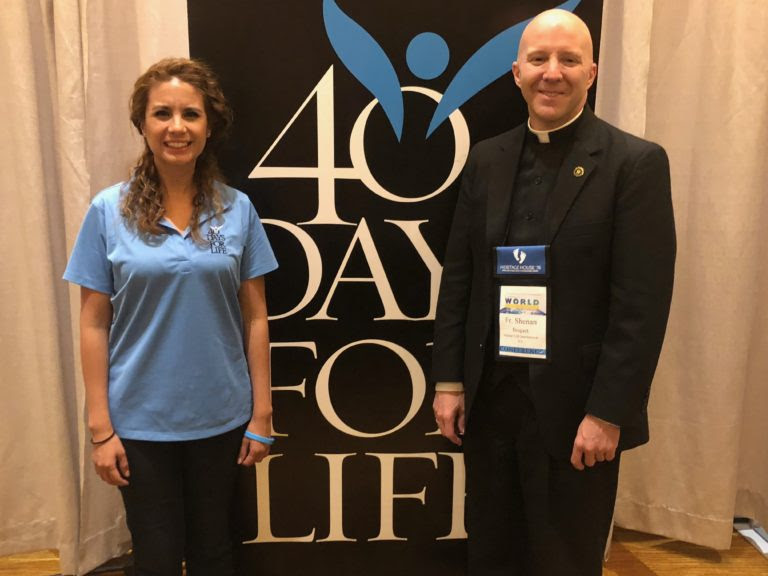 "What is urgently called for," wrote Pope St. John Paul II in the great pro-life encyclical Evangelium Vitae, "is a general mobilization of consciences and a united ethical effort to activate a great campaign in support of life." (EV, ¶95)
The vast and multifarious pro-life movement, with its ever-expanding networks of crisis pregnancy centers, mobile ultrasound units, political activists and lawyers, pro-life student clubs, news organizations, marches, peaceful protesters and medical centers, is the remarkable and, in many respects, unlikely embodiment of this great movement. Against all the odds, and often with little time, money, and experience, pro-life individuals and organizations have risen up and pushed back against the well-funded, celebrity-backed juggernaut of the Culture of Death, saving countless lives in the process.
Twice a year, however, an event happens across the globe that is perhaps the single-most astonishing and visible evidence that this great campaign for life is growing...
Sincerely yours in Christ,
President, Human Life International
Our Lady's Message For the World Given to Mirjana Soldo on March 18, 2019

"My children, As a mother, as the Queen of Peace, I am calling you to accept my Son so that He can grant you peace of soul-that He can grant you that which is just, which is good for you.

My children, my Son knows you.

He lived the life of man, and at the same time of God: a wondrous life-human flesh, divine Spirit.

Therefore, my children, while my Son is looking at you with His eyes of God, He penetrates into your hearts.

His tender, warm eyes are looking for Himself in your heart.

My children, can He find Himself [there]?

Accept Him, and then the moments of pain and suffering will become moments of tenderness.

Accept Him, and you will have peace in [your] soul-you will spread it to all those around you-and this is what you now need the most.

Heed me, my children.

Pray for the shepherds, for those whose hands my Son has blessed.

Thank you."

See more messages and articles about Medjugorje on our website:

Children of Medjugorje, INC

,

PO Box 18430

,

Denver

,

CO 80210
ROSWELL, New Mexico, March 15, 2019 (LifeSiteNews) – The City Council of Roswell, New Mexico passed a resolution Thursday declaring its jurisdiction to be in support of "fetal life," something local pro-life activists say makes Roswell a "sanctuary city for the unborn."
In a seven-to-one vote, with one council member abstaining, the City Council passed Resolution 19-28, which declares "that innocent human life, including fetal life, must always be protected and that Society must protect those who cannot protect themselves."
The resolution also states that the City Council declares "its opposition to any diminution by the New Mexico Legislature of the limitations on abortion" and "honors the rights of healthcare providers to object on moral grounds to performing abortions and opposes any regulation or law seeking to violate that right."
This week, the New Mexico Senate was considering a pro-abortion bill that would have forced doctors to commit abortions. It also would have repealed old, unenforced sections of the law criminalizing abortion – preparation for a possible overturning of Roe v. Wade. New Mexico is home to an infamous late-term abortion facility, Southwestern Women's Options, and has some of the loosest abortion laws in the country. Southwestern Women's Options commits abortions throughout the third trimester of pregnancy.
(
Read more...
Collapse
)
Mirjana Soldo encounters Our Lady (March 2, 2019)
March 15, 2019

Dear Family of Mary!

Next Monday, March 18, 2019 - Our Lady will appear to Mirjana Soldo for her yearly apparition. Starting on June 24, 1981, Our Lady appeared to Mirjana for 18 months, every day. It was heaven for Mirjana. I want to share Mirjana's own words about the cessation of her daily apparitions, and how it came to be that Our Lady would appear to her every year on the 18th of March. Her account of this transition in her relationship with Our Lady is from "My Heart will Triumph":
For the First 18 months, Our Lady came every day. When she spoke to me, it was as if the whole universe was speaking to me. I drew strength and love from those moments - strength to persevere in my daily struggle, and love to forgive the people who persecuted me. When you see Our Lady, it is impossible to hate anyone because you become aware that she loves even the person who mistreats you. That person is her child as much as you are, and her love for all of her children is indescribably. I have never seen that kind of love on Earth...
On December 23, 1982, Our Lady appeared to me as usual, and, like always it was a beautiful experience that filled my soul with joy. But towards the end, she looked at me with tenderness and said, "On Christmas Day, I will appear to you for the last time."

The apparition ended, and I was left stunned. I had clearly heard what she said, but I could not believe it. How could I live without apparitions? It seemed impossible and I prayed intensely for it not to be true.
The next day, on Christmas Eve, she again tried to prepare me, but I still could not comprehend it. I spent most of the night begging God to give me more time with her.
While my parents and brother celebrated Christmas day with singing, prayers and food, I was far too consumed with worry to join in. There I was, surrounded by my loving family, about to spend part of Christmas with the same woman who gave birth to Jesus two thousand years before, and I could not even smile.
My anticipation soared as the time of the apparition approached. My mother, father and brother, wearing their finest Christmas attire, kneeled beside me. We prayed the rosary in preparation for her coming. When Our Lady finally appeared, she smiled gently and greeted me in her usual motherly way. I was captivated; her dress radiated the same spectacular golden color it had the previous Christmas, and in that moment - with all of her grace and beauty shining down on me - it was impossible to be sad anymore.
My parents told me later that my final daily apparition lasted for an extraordinary 45 minutes. Our Lady and I talked about many things. We summarized our entire 18 months together - everything we had said to each other and everything she had revealed to me. She entrusted me with the tenth and final secret, and she explained that I will need to choose a priest for a special role. Ten days before the date of the event foretold in the first secret, I am to tell him what will happen and when. He and I are then supposed to pray and fast for seven days, and, three days before the event, the priest will reveal it to the world. All ten secrets will be revealed in this way.
Our Lady also gave me a precious gift. She told me that she would appear to me once a year, on March 18, for the rest of my life. March 18 is my birthday, but Our Lady did not choose that date for that reason. For her, my birthday is not different from anyone else's. Only when the things contained in the secrets start to happen will the world understand why she chose the 18th of March. The significance of the date will be clear. She also said that I would experience some additional apparitions. [The 2nd of the month apparitions]
She then held out something like a rolled-up scroll, explaining that all the secrets were written on it, and that I should show it to the priest I choose when the time comes to reveal them. I took it from her hand without looking at it.
"Now you will have to turn to God in faith like any other person," she said. "Mirjana, I have chosen you; I have confided in you everything that is essential. I have also shown you many terrible things. You must now bear it all with courage. Think of me and think of the tears I must shed for that. You must remain brave. You have quickly grasped the messages. You must also understand now that I have to go away. Be courageous."

She promised to always be near me and to help me in my most difficult situations, but the pain I felt in my soul was nearly unbearable. Our Lady was aware of my torment and she asked me to pray. I recited the prayer that I often prayed when I was alone with her, the Salve Regina...She smiled in the most motherly way and then she was gone. (Mirjana Soldo. "My Heart Will Triumph". P. 135-37)
Mirjana suffered greatly from the loss of Our Lady's daily apparitions. But she was brave and has continued to follow Our Lady all these years. Her book is wonderful, and I recommend it to all of you as a way to glimpse the life of a visionary. (You can order the book here:

www.MyHeartWillTriumph.com )
On March 18, Mirjana will again see Our Lady for their yearly visit. Let's pray for Mirjana that she will have courage! And let's anticipate the message Our Lady will give us through Mirjana. We do so need Our Lady's guidance in these days.

I will send out the message as quickly as I can, and Mary TV will post the apparition on our webpage as well.

Here is Our Lady's messages for March 18, 2018.

March 18, 2018
"Dear children! My earthly life was simple. I loved, and I rejoiced in small things. I loved life - the gift from God - even though pain and sufferings pierced my heart. My children, I had the strength of faith and boundless trust in God's love. All those who have the strength of faith are stronger. Faith makes you live according to what is good and then the light of God's love always comes at the desired moment. That is the strength which sustains in pain and suffering. My children, pray for the strength of faith, trust in the Heavenly Father, and do not be afraid. Know that not a single creature who belongs to God will be lost but will live forever. Every pain has its end and then life in freedom begins there where all of my children come - where everything is returned. My children, your battle is difficult. It will be even more difficult, but you follow my example. Pray for the strength of faith; trust in the love of the Heavenly Father. I am with you. I am manifesting myself to you. I am encouraging you. With immeasurable motherly love I am caressing your souls. Thank you."
Thank you, dearest Mother! We love you!

In Jesus, Mary and Joseph!
Cathy Nolan
© Mary TV 2019
"Medjugorje is the spiritual center of the world."
Saint John Paul II
Be connected!
www.marytv.tv